As many of you already know, we are just ending a 5 night layover in London before our onward cruise to the West Coast of Europe including Madeira, the Canary Islands, and Morocco.
The weather in London this week was typical for this time of year.  Chilly mornings, warming in the afternoons, mostly cloudy but only a tiny drizzle now and then.
We have spent our days exploring new and old sites, catching up on movies and trying new (and old) restaurants.
Food Discoveries:
Our hotel was a block away from the Earl's Court Underground Station on Cromwell Road.  We like this part of town, easy access to all of central London.  The Piccadilly and District Lines offer easy connections to the rest of the London Underground as well as bus service in several directions.  There are several parks and several major museums within walking distance. The neighborhoods are charming and ever changing.
Masala Zone
This is a small chain of Indian restaurants with seven locations in central London. Self described as "Fresh, Healthy and Friendly" and we agree wholeheartedly.
Tasty grills, homestyle platters, and regional curries highlight the menu.  The space is bright, modern, stylish and affordable.  There is a full bar along with a good selection of beers and wines.
Www.masalazone.com
The Little French Restaurant 
The name of this restaurant is completely accurate.  This tiny restaurant is tucked away on a little lane 100 yards away from the Earl's Court underground station.
The simple menu features a generous three courses at very affordable prices.  The choices are limited but all are traditional classic dishes.  Side dishes and beverages are very good quality.  Service is warm and attentive.  Cash only!
Www.thelittlefrenchrestaurant.com
Siam Secret
This is a charming restaurant tucked into a little patio that opens into a few lovely rooms where authentic traditional Thai food is served.
Service is warm and genuine. The food is even better! High quality ingredients, served in a classic style.  Specify your spice preference from mild to inciderary.  Full bar, popular.
Steps away from Earl's Court Tube Station. Open continuously from 2 pm to 11 pm daily.
www.siamsecret.co.uk
Orjowan
This small locally owned restaurant served some of the best Lebanese cuisine we have enjoyed in years.  The smoothest hummus, lamb and chicken shawarma (marinated and grilled), rocket, onion and tomato salad,  homemade goat cheese grilled bread and more.  Almaza (Lebanese beer) and a nice wine list.
www.orjowan.co.uk
Punjab
This North Indian restaurant has specialized in Punjabi Cuisine since 1946.  This is some of our favorite food anywhere.  Everything was delicious.  Pappadums, samosas,  chicken korma, lamb boti kabobs, basmati rice and Cobra beer.  Yum!
80 Neal Street, Covent Garden
www.punjab.co.uk
Sightseeing Discoveries 
Chiswick House and Gardens
Nestled among the neighborhoods of West London is Chiswick House and Gardens.  After all our visits to London, this was a wonderful discovery.  The grounds are expansive and open to the public from 8:00 AM until sunset.  There are ample paths, gardens, a conservatory, a charming cafe and the main house, now a museum open for visiting at a fee.
The house is the first Neo-Palladium structure in the U.K. Dating back to 1729.  It is a great place to spend a few hours.
Islington
There is a great walk between the tube stops Angel and Highbury & Islington.  For a different look at London as a smaller town, take a walk between these two tube stops.  Follow Upper Road to Essex Road (and zig zag as you go for more discoveries).  The neighborhood shops are both interesting and unique.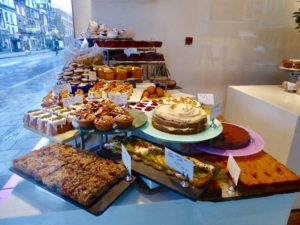 Canary Wharf
This was a dreary industrial area only a few decades ago.  If you haven't seen it lately, prepare to be wowed!  It is a surprisingly well planned city within the City.  Scores of new commercial office and residential towers as far as the ey can see with more under construction everyday.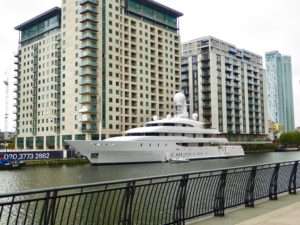 While the first look is impressive, the second response is it seems a bit sterile, void of character or community.
That said, upon closer look, there is shopping and restaurants galore.  There are waterfront views everywhere.  The architecture varies from modern boxes to stunning design.  We are glad we took the time to discover this new part of the city.
Westfield Shopping Center at Shepherd's Bush
Normally we are not interested in shopping centers (there are scores of Westfield Shopping Centers in the US.)  What brought us to this complex was a movie theater.
What we discovered was arguably the most expansive Shopping/entertainment/dining complex we have seen in a long time.  Over 350 stores and restaurants in a beautifully designed complex.  One could spend days in here and still not see it all.  Outstanding!