In celebration of John's retirement, we found two cruises with only two Ports of Call we had already visited, Barcelona and Palma, Mallorca. Since we loved both cities, it was an easy decision to book both cruises.
This post recaps the first cruise, round trip Rome to Rome.
Salerno, Italy
South of Naples, Salerno is a charming little port city tucked into the steep hills surrounding the harbor.  From here one can journey to Pompeii, Capri or Sorento.  We opted to explore the town and were not disappointed.
Messina, Sicily, Italy
We loved Messina.  There is a little hop on hop off bus that does a good job for visitors.  Do NOT miss the noon bell ringing at the main cathedral's clock tower. It is a spectacle, among the best in Europe.
Restaurant tip: Siciliano Ristorante, via Garibaldi, 112, Messina.  Www.ilsicilianorestaurante.it.  Great pizza, pastas, salads, wines!
Palma, Mallorca, Spain
One of our favorite cities in Europe, Palma has an amazing old town, yacht harbor, museums and dining.  Farther afield, there is much to discover.  Spend a long weekend or the entire season. It is a very international city.
Restaurant tip:  Restaurante Toque, c/Federico Garcia Lorca. Tel: 971 287 068, www.restaurante-toque.com.
Reservations are essential!  Belgian/French Mediterranean cuisine.  Michelin star quality at affordable prices.
Cartegna, Spain
This was a bit of a disappointment.  A rainy day.  Our objective was to find the Roman amphitheater in the heart of the city.  We never did find it unless a collapsing bull fighting ring counts.
Nonetheless, the main pedestrian street was also the main shopping street with interesting shops and cafes housed in buildings of architectural interest.  It wasn't our favorite outing.  Even the tapas lunch was disappointing.
Gibraltar, UK
We had always wanted to see Gibraltar.  It was a fascinating, walkable city.  It is British colony where the Pound is the preferred currency.  There is a cable car that goes to the top of the mountain, wild monkeys are everywhere up there.
We wandered the main streets which were chockablock with shops catering to locals and tourists alike.  Gibraltar is only attached to mainland Spain by a tiny strip of land.
Lisbon, Portugal 
To date, this is our favorite city of our trip.  Big, brawny, diverse, proud.  Built on seven hills, it sprawled in all directions.  The city center is eclectic, much of it rebuilt after the divestating earthquake of 1755.
We are scheduled to be back in Lisbon on our next cruise so we decided to take a day trip to the holiday towns of Sinatra, a UNESCO world heritage site and Cascais, a sophisticated resort town on the coast.
Cadiz, Spain
It is the oldest city in Spain and possibly the oldest city in Europe.  It has a splendid promenade along the shoreline, old Roman ruins in the old town, a massive cathedral in terrible condition.
It also has a vibrant city center with traditional narrow streets and pathways, typical open squares that serve as community centers in the neighborhoods.  It is a charming city worthy of a visit.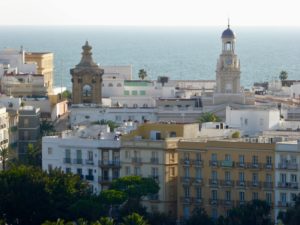 Ibiza, Spain
This relatively small island off the Mediterranean coast of Spain is a real gem.  Famous for its night life and throngs of visitors in the season.  We really enjoyed our visit.
It also has one of the best preserved fortifications and old towns we have seen in Europe where time has practically stood still, except for the 4 star hotels.
Barcelona, Spain 
This is one of our favorite cities.  It has it all: culture, architecture, innovation, amazing food, fabulous museums.
We chose the hop on hop off option again.  With two routes and intersecting transfer points you can get a good look at the city, hop off when you want to linger and hop back on when you are ready for more.
Toulon, France
This relatively small seaside town in the South of France has been a quiet gateway to Marseille and Provence.  After two weeks of shore excursions, we decided to keep our visit local.  Toulon is a well preserved little city with a long maritime history.
The town is compact and walkable with an old world charm.  Rustic and comfortable at the same time.  There was a vibrant open air market in the town center when we were there.
We had the best moules and frites and a nice bottle of Rose from Provence.  Beautiful weather made for a great day.
Restaurant tip: Le Pointu, 249qui Cronstadt 83000 Port de Toulon, www.lepointu.fr