Greeting to all!.  Today is our fifth day since our arrival at our family lake house in Wisconsin.  John and I have been settling in on our own until now.  Today we met with dear friends for brunch, Susie and Gary from Minneapolis.  What fun it was to meet old friends and get caught up on all things of interest.
Today I must report on the last 24 hours.  Yesterday about this time, the sky darkened and slowly became windy and thunderous.  It lasted for hours, wave after wave of downpours.  (This is something common to Midwest residents but non-existent to West Coast folks like us.)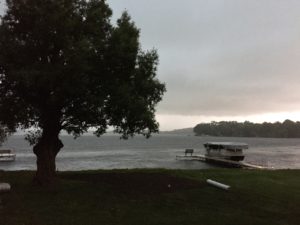 Fast forward 18+ hours :  still no power.  This is a problem, that means, no water (well water requires a pump!), no water for sewage (that requires water too!). Torrential rains overnight and this morning means excessive water requires sump pump to deliver excess water away from the house (that requires power again).
As a side bar, the gardeners yesterday excavated an old suffering garden and replaced it with new soil and fresh seed only 30 minutes before the storm hit.  Today they came back to fix the damage.  Awesome tradesmen.
Now, I can report the power has been restored.  Most household systems have been restored and all but the garage opener are functioning as normal.  So has the image outside our window, a pristine blue lake with glorious sunshine and a beautiful horizon.
What will tomorrow bring?!  We send best wishes to you all!
J&J