All,
So sorry for so few reviews lately.  We've been super busy with family, friends, last minute touring and gads about town…  The truth be told, access to films, especially independent and foreign, has been pretty lean.  We'll have to fix that going forward.
In the meantime, we arrived in Salt Lake City this afternoon to temps in the mid/high 90's.  So what better reason to seek refuge but in a comfortable movie theater.
Girls Trip
Despite the chemistry with this talented cast, this story is raunchy, crass and down right sleazy.  This is NOT what you would expect from a cast of Queen Latifah, Jada Pinkett Smith, Regina Hall and Tiffany Haddish.
Let's just say it was a painful two plus hours, although most audiences seemed to enjoy the movie.  We could only reflect on the countless women we have known and worked with and their years of struggle to gain respect and recognition.
Lest we forget it was a comedy.  OK, maybe not our genre.  But we were not expecting crude public behavior that pushed the comic envelope quite so far…
Rated R for crude sexual content, pervasive language, nudity and drug matter.
Rating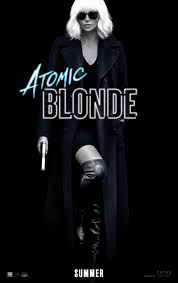 Atomic Blonde
Oh my goodness.  Step aside 007.  Hello Lorriane Broughton!  She's MI6's elite spy with the best skills of any agent…ever!  She is strong, relentless, committed, unpredictable, and smart.
The cast is compact but effective.  Charlize Theron is the star agent.  James McAvoy plays the double agent, Sofia Boutella is a love interest, John Goodman is pulling strings behind the scenes.  Roland Moller, Johannes Haujur Johannesson take turns as counter agents.
Some reviewers are not liking the plot.  Too much "ass-kicking", not enough spy drama.  We liked it because it bursts with energy, relentless action and a new breed of super spy.
The genre is a Mystery/Thriller.  It is rated R for violence and adult subject matter.  Run time is 1 hour, 55 minutes.
Rating  
Kidnap
Every parent's nightmare!  You are out in a seemingly safe public place and in the blink of an eye, your child disappears.  You scramble into action and lose your mobile phone in the process…
This sets the stage for the next tense hour and a half as Mom (Halle Berry in an intense role), and her son (Sage Correa, whom we will surely see more in time) desperately struggle to find each other.
The acting is good to excellent.  The tension is off the charts.  The bad guys are really bad!  And the story…well you'll just have to decide for yourself.  We thought it was pretty darn good.
It is rated R for violence and intensity and viewing by children is cautioned by these viewers.  Its genre is listed as a Thriller/Mystery with a run time of 1 hour, 35 minutes.
Rating