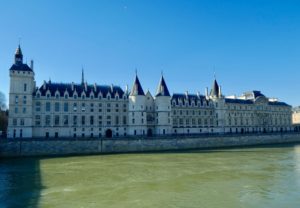 It was a particularly cold but clear day with a bitterly cold breeze.  We were determined to make the best of it and visit a couple of old favorite sites we have not seen in a very long time.
Our first stop was Sainte Chapelle, built in 1242 to 1248.  Today it is considered to be the most beautiful church in Paris.  What is remarkable is the enormous volume of glass and light.  It is truly stunning.
Our next stop was Musee Jacquemart Andre.  A private residence that  became an art museum bequeathed by the owners.  It holds an extraordinary collection including paintings by Rembrandt, Botticelli,   Uccello, and several others.
Upon arrival we decided a bite to eat was in order and we took advantage of the museum's wonderful cafe.
Now the house and collection.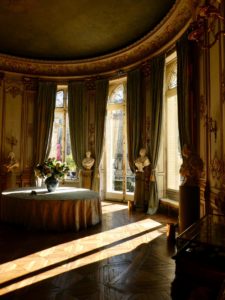 You cannot go to Paris without a visit to the Arc de Triomphe.
Today's walk: 5.4 miles, 16 flights of stairs.
Tomorrow we fly to Lisbon for the next leg of our journey.  Thank you Paris.  Hello Portugal!
Much love to you all,
J&J