Child's Play
The biggest realization today was we have seen every movie currently in release in the greater Milwaukee Metropolitan Area! Unless something new is released in the next month we will seek other activities to entertain ourselves!
Child's Play was a remake about a killer doll named "Buddi". The good news is there is a lot less violence than the "Chucky" series. The bad news is the visuals are graphic, quite gory and expansive. There is an injection of humor here and there in an attempt to soften the gore. Unfortunately we cannot recommend this film for younger viewers.
Rating
Summary
Child's Play (June 19, 2019)
Karen, a single mother, gifts her son Andy a Buddi doll for his birthday, unaware of its more sinister nature. A contemporary re-imagining of the 1988 horror classic.

Mark Hamill
Role: Chucky (voice)
Aubrey Plaza
Role: Karen Barclay

Brian Tyree Henry
Role: Detective Mike Norris
Gabriel Bateman
Role: Andy Barclay

Beatrice Kitsos
Role: Falyn

Hannah Drew
Role: Disappointed Customer
Carlease Burke
Role: Doreen

Veenu Sandhu
Role: Frustrated Customer

Nicole Anthony
Role: Detective Willis
Amber Taylor
Role: Shane's Daughter
Ben Andrusco-Daon
Role: Ben
Johnson Phan
Role: Supervisor

Michael Bardach
Role: Homeless Man
Kenneth Tynan
Role: Jonga Burger Dude
Anantjot S Aneja
Role: Chris

Eddie Flake
Role: Angry Customer
Tim Matheson
Role: Henry Kaslan
Tyler Burton Smith
Screenplay
David Katzenberg
Producer
Seth Grahame-Smith
Producer

Brendan Uegama
Director of Photography
Dan Hermansen
Production Design

Aaron Schmidt
Executive Producer
Bear McCreary
Original Music Composer

Chelsea Ellis Bloch
Casting
Doug Girling
Art Direction
Jori Woodman
Costume Design
Stuber
Far from rocket science or brain surgery, Stuber is a buddy comedy where the two men could not be more different from each other. The biggest surprise wasn't the stereotypical characters. It was how hilarious the screenplay was from beginning to end.
The unseemly pairing of the lead characters speaks volumes about current society in a way that is palatable to a broad spectrum of audiences. Brain and brawn blend together with layers of social commentary. It was better than we expected.
Rating
Summary
Stuber (July 11, 2019)
After crashing his car, a cop who's recovering from eye surgery recruits an Uber driver to help him catch a heroin dealer. The mismatched pair soon find themselves in for a wild day of stakeouts and shootouts as they encounter the city's seedy side.

Kumail Nanjiani
Role: Stu
Natalie Morales
Role: Nicole

Karen Gillan
Role: Morris

Mira Sorvino
Role: Angie McHenry

Rene Moran
Role: Amo Cortez

Apollo GT
Role: Male Stripper
James William Ballard
Role: Clippers Fan / Shooter
Darin Ferraro
Role: Drug Dealer
Jennifer Riker
Role: Art Collector

John Francis Daley
Producer
Jonathan Goldstein
Producer
Shirley Libby
Sound Mixer
Naaman Marshall
Production Design
Bobby Shore
Director of Photography
Jeremiah Samuels
Executive Producer
Nicholas Thomas
Executive Producer
Jake Wagner
Executive Producer
Andi Crumbley
Art Direction
Karen Frick
Set Decoration
Leigh Leverett
Costume Design
Crawl
We are at that point in the summer movie season when new releases, well, are less than prolific. Hence: Crawl. On the upside, it's suspense filled, occasionally intense, and one critic noted it has "plot conveniences", which is a new description for us.
There is a big overarching flaw in the film. The consistent references to alligators in lieu of the massive and gravely powerful crocodiles.
Rating
Summary
Crawl (July 11, 2019)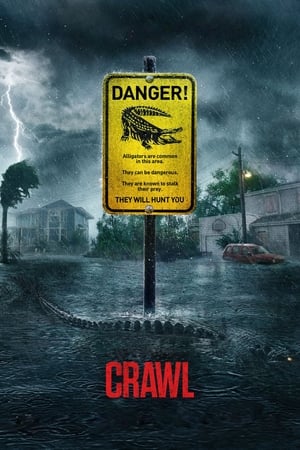 While struggling to save her father during a Category 5 hurricane, a young woman finds herself trapped inside a flooding house and fighting for her life against Florida's most savage and feared predators.

Kaya Scodelario
Role: Haley Keller
Barry Pepper
Role: Dave Keller
Ross Anderson
Role: Wayne Taylor


Morfydd Clark
Role: Beth Keller
Annamaria Serda
Role: Emma
Savannah Steyn
Role: Lisa
Colin McFarlane
Role: Governor
Michael Rasmussen
Screenplay
Shawn Rasmussen
Screenplay
Justin Bursch
Executive Producer
Lauren Selig
Executive Producer

Maxime Alexandre
Cinematography
Alan Gilmore
Production Design
Dragan Kaplarevic
Art Direction
Momirka Bailovic
Costume Design
Max Aruj
Original Music Composer
Steffen Thum
Original Music Composer
Ketan Waikar
Art Direction