Movie 1: Ad Astra
What a remarkable film. It's about space, an astronaut and his father, also an astronaut who is lost in space. It's powerful, beautiful, challenging, occasionally confusing and arguable the best space film in quite some time. We saw it in a massive IMAX theater with a great Dolby sound system, well worth the extra cost.
Rating
Summary
Ad Astra (September 17, 2019)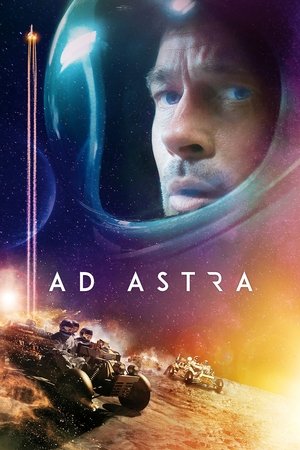 An astronaut travels to the outer edges of the solar system to find his father and unravel a mystery that threatens the survival of our planet. He uncovers secrets which challenge the nature of human existence and our place in the cosmos.
Brad Pitt
Role: Roy McBride
Tommy Lee Jones
Role: Clifford McBride
Ruth Negga
Role: Hellen Lantos
Donald Sutherland
Role: Thomas Pruitt
Kimberly Elise
Role: Lorraine Deavers
Loren Dean
Role: Donald Stanford
Donnie Keshawarz
Role: Captain Lawrence Tanner
Sean Blakemore
Role: Willie Levant

Bobby Nish
Role: Franklin Yoshida

LisaGay Hamilton
Role: Adjutent General Amelia Vogel
John Ortiz
Role: General Rivas
Freda Foh Shen
Role: Captain Lu

Kayla Adams
Role: Female Flight Attendant
Ravi Kapoor
Role: Arjun Dhariwal

Elisa Perry
Role: Woman in White Pants / Shirt


Kimmy Shields
Role: Sergeant Romano

Kunal Dudheker
Role: Technician 1

Greg Bryk
Role: Chip Garnes
Alyson Reed
Role: Janice Collins
Sasha Compère
Role: Female Team Member
Justin Dray
Role: Male Team Member

Alexandria Rousset
Role: Woman on Screen

Natasha Lyonne
Role: Tanya Pincus
Zoro Saro Manuel Daghlian
Role: Spacecom Employee

Jacob Sandler
Role: Young Roy
Elizabeth Willaman
Role: Cepheus (voice)
Anne McDaniels
Role: Shunga Hologram
Sophie Mas
Executive Producer
Marc Butan
Executive Producer
Kevin Thompson
Production Design
Karen O'Hara
Set Decoration
Albert Wolsky
Costume Design

Rodrigo Teixeira
Producer
Hoyte van Hoytema
Director of Photography

Max Richter
Original Music Composer
Bradley Parker
Visual Effects Supervisor
Brian Adler
Visual Effects
Richard Friedlander
Visual Effects Producer
John Casey
Costume Supervisor
Jeffrey Chan
Executive Producer
Paul Conway
Executive Producer
Anthony Mosawi
Executive Producer
Lourenço Sant'Anna
Executive Producer
Michael Schaefer
Executive Producer
Dong Yu
Executive Producer
Kevin Constant
Art Direction
Alison Sadler
Art Direction
David Scott
Art Direction
Gary Warshaw
Art Direction

Lorne Balfe
Original Music Composer
Gary Rydstrom
Supervising Sound Editor
Gary Rydstrom
Sound Designer
Gary Rydstrom
Sound Re-Recording Mixer
Tom Johnson
Sound Re-Recording Mixer

Movie 2: Ms. Purple
Set in Koreatown, Los Angeles, sister Kasie and brother Carey come together and struggle to care for their dying father.
Both under employed and struggling under weighty demands as caretakers, the two manage to keep their heads above water. It's a unique story and a hit at both Sundance and the 2019 Los Angeles Asian Pacific Film Festival. English and Korean with English subtitles.
Bonus! Our screening included a Q & A with the lead actress Tiffany Chu.
Rating
Summary
Ms. Purple (September 6, 2019)
Kasie, stuck in LA's Koreatown, works as a karaoke hostess getting paid for her companionship by drunken men. When her dad's hospice nurse quits she reconnects with her estranged brother, Carey, forcing them to enter a period of intense self-reflection as their single father who raised them nears death.

Octavio Pizano
Role: Octavio
Sonny Kang
Role: Young-Il

Alma Martinez
Role: Juanita
Courtney Bandeko
Role: Priscilla
Josiah D. Lee
Role: Josiah
Trinecia Moore-Pernell
Role: Nurse Joyce
Roger Suen
Original Music Composer
Ante Cheng
Director of Photography
Eunice Jera Lee
Costume Design
Gabriel Napora
Executive Producer
Yas Taalat
Executive Producer
Yipeng Ben Lu
Executive Producer
Michael Beaudry
Casting Director
Bo Koung Shin
Production Design
Min Jeong Chai
Art Direction
Pierre Delachaux
Executive Producer
Movie 3: Rojo
It was a unique view of pre-coup Argentina in the 1970s. South America of the era was struggling with establishing a 'new world' society.
It delivers its story as an unraveled thriller. It's also a bio on the corruption and chaos of the time. Spanish with English subtitles.
Rating   
Summary
Rojo (October 26, 2018)
A small town in an Argentinian province, 1975. The life of Claudio, a successful lawyer, gets complicated when he has a stupid quarrel with a stranger in a crowded restaurant.
Darío Grandinetti
Role: Claudio

Andrea Frigerio
Role: Susana
Alfredo Castro
Role: Detective Sinclair
Laura Grandinetti
Role: Paula
Claudio Martínez Bel
Role: Vivas

Susana Pampín
Role: Professor
Rafael Federman
Role: Santiago

Diego Cremonesi
Role: The Hippie / Dieguito
Rudy Chernicoff
Role: Mago

Mara Bestelli
Role: Mabel
Benjamín Naishtat
Director
Pedro Sotero
Director of Photography
Benjamín Naishtat
Screenplay
Vincent van Warmerdam
Original Music Composer
Pedro Sá Earp
Sound Recordist
Julieta Dolinsky
Art Direction
Florencia González Rogani
Dialogue Editor
Simon Apostolou
Sound Mixer
Fernando Ribero
Sound Director
Barbara Sarasola-Day
Producer
Federico Eibuszyc
Producer
Special note: A hearty HELLO to all our viewers! First, we so appreciate your support. We value your comments and feedback.
Our big news of the day is…tomorrow we depart for London and destinations beyond. We will explore much of Europe for the next 5 weeks, including visiting long time friends in Switzerland.
When and if we are able to view films, we will send reviews. If possible we will send pictures along the way. Love to all and cheers! J&J