Movie 1 Title: Sorry We Missed You
Set in Suburban London and the financial crash of 2008, this is the story of an average family and the layered challenges they endure just trying to make ends meet.
Just as important the script is laser focused on the character development and the erosion that slowly tears the family apart.  Excellent on all fronts. It was a favorite at Cannes.  Seek it out if you can. 
Rating  
Summary
Sorry We Missed You (October 4, 2019)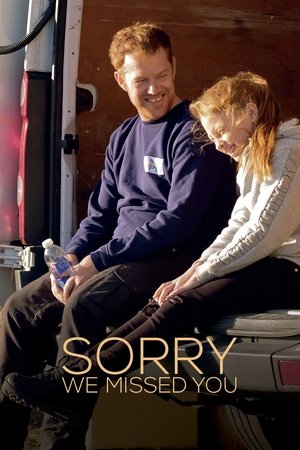 A story exploring the issue of hardship in modern-day Britain through a young couple scraping to get by in a casual jobs market. A hard-up delivery driver and his carer wife are pushed to breaking point as they struggle to keep their family afloat in a world of zero-hour contracts and gig work.

Kris Hitchen
Role: Ricky Turner

Debbie Honeywood
Role: Abbi Turner
Katie Proctor
Role: Liza Jane Turner
Ross Brewster
Role: Gavin Maloney
Charlie Richmond
Role: Henry Morgan
Julian Ions
Role: Freddie
Sheila Dunkerley
Role: Rosie
Maxie Peters
Role: Robert
Christopher-John Slater
Role: Ben
Heather Wood
Role: Mollie
Alberto Dumba
Role: Harpoon
Natalia Stonebanks
Role: Roz
Jordan Collard
Role: Dodge
Stephen Clegg
Role: Policeman
Nikki Marshall
Role: Traffic Warden
Darren Jones
Role: Council Worker
Linda E. Greenwood
Role: Driver
Mark Burns
Role: Homeless man
Vicky Hall
Role: A&E Nurse
Harriet Ghost
Role: Office Worker



Eimhear McMahon
Line Producer

Fergus Clegg
Production Design
Anita Brolly
Makeup Designer
Adrienne D'Anna
Assistant Production Manager
Jamie Hamer
Second Assistant Director
La' Toyah McDonald
Third Assistant Director
Julie Bemment
Art Department Assistant
Ruby Alexandra Hirst
Art Department Assistant
Kevin Brazier
Sound Editor
Hannes Bruneel
Telecine Colorist
Max Graham
Dailies Technician
Thibault Walckiers
Second Assistant Camera
Marianne Lynch
Casting Assistant
Rachel Durance
Assistant Editor
Mark Gales
Location Manager
Stuart Wharton
Location Assistant
Shona Mackenzie
Production Coordinator


Movie 2 Title: Gemini Man
Lots of critics panned this film as "a clever gimmick", "tedious", and a "muddled misfire".  We are not sure they were watching the same film we did.  We felt it was engaging, thought provoking and well executed.  Add a new state of the art CGI (computer generated images) technology and we may be seeing a lot of inventive stories in the near future. 
Rating   
Summary
Gemini Man (October 2, 2019)
Henry Brogen, an aging assassin tries to get out of the business but finds himself in the ultimate battle: fighting his own clone who is 25 years younger than him and at the peak of his abilities.

Will Smith
Role: Henry Brogen

Mary Elizabeth Winstead
Role: Danny

Clive Owen
Role: Clay Verris
Benedict Wong
Role: Baron

Linda Emond
Role: Lassiter

Theodora Miranne
Role: Kitty

Justin James Boykin
Role: Connor

Alexandra Szucs
Role: Aniko

Victor Hugo
Role: Junior (on set reference)

Jerry Bruckheimer
Producer

Dion Beebe
Director of Photography




Suttirat Anne Larlarb
Costume Design



Lorne Balfe
Original Music Composer
Guy Hendrix Dyas
Production Design
Gergely Rieger
Art Direction

Movie 3 Title: Judy
Rarely does a performance come along that depicts its character so perfectly that one forgets who is whom.  In this film, Renee Zellweger not only plays Judy Garland, she morphs into Judy Garland.  
Overall, its an extraordinary look at a legendary performer in the twilight of her career and life.  If you are a fan, we are pretty sure you will like this film. 
Rating   
Summary
Judy (September 27, 2019)
Legendary performer Judy Garland arrives in London in the winter of 1968 to perform a series of sold-out concerts.

Renée Zellweger
Role: Judy Garland
Rufus Sewell
Role: Sidney Luft

Finn Wittrock
Role: Mickey Deans
Michael Gambon
Role: Bernard Delfont
Richard Cordery
Role: Louis B. Mayer
Jessie Buckley
Role: Rosalyn Wilder

Bella Ramsey
Role: Lorna Luft

John Dagleish
Role: Lonnie Donegan
Gemma-Leah Devereux
Role: Liza Minnelli

Tim Ahern
Role: Walter Rickerts
Bentley Kalu
Role: Georgie
Arthur McBain
Role: Askith


David Shields
Role: Bailey

John Mackay
Role: Johnnie Ray
Darci Shaw
Role: Young Judy Garland
Tom Durant Pritchard
Role: Ken Frisch
Daniel Cerqueira
Role: Stan
Royce Pierreson
Role: Burt

Natasha Powell
Role: Ethel Gumm

Israel Ruiz
Role: London Photographer
Lucy Russell
Role: Publicist
Matt Nalton
Role: Music Director
Gabriel Yared
Original Music Composer
Kave Quinn
Production Design

Jany Temime
Costume Design

Fiona Weir
Casting Director
Cameron McCracken
Executive Producer
Mickey Liddell
Executive Producer
Ole Bratt Birkeland
Director of Photography
Pete Shilaimon
Executive Producer
Alice Searby
Casting Director
David Livingstone
Producer
Laurence Myers
Executive Producer
Stella Fox
Set Decoration
Aaron Levene
Executive Producer
Tilly Scandrett
Art Direction
Andrea Scarso
Executive Producer
Lee Dean
Executive Producer
Charles Diamond
Executive Producer
Ellis Goodman
Executive Producer