Movie 1: The Art of Racing in the Rain
This film is based on the best selling novel by the same name. It's as good or better than similar films of recent years mainly because the script is honest and faithful to its story line.
Its critics offer resentment to "gimmicks and weepy cliches" but if you focus on the family drama and the core story without the distractions, you might discover a heartwarming and tender underbelly.
Rating
Summary
The Art of Racing in the Rain (August 8, 2019)
Enzo, a family dog with a near-human soul and a philosopher's mind, evaluates his life through the lessons learned by his human owner, the race-car driver Denny Swift.
Cast
The Art of Racing in the Rain
Milo Ventimiglia
Role: Denny Swift
Kevin Costner
Role: Enzo (voice)

Amanda Seyfried
Role: Avery "Eve" Swift

Martin Donovan
Role: Maxwell


Gary Cole
Role: Don Kitch

McKinley Belcher III
Role: Mark Finn
Ryan Kiera Armstrong
Role: Young Zoe Swift

Lily Dodsworth-Evans
Role: Teenage Zoe Swift

Karen Holness
Role: Doctor
Aliza Vellani
Role: Assistant

Crew
The Art of Racing in the Rain
Monique Prudhomme
Costume Design


Ross Emery
Director of Photography


Donald J. Lee Jr.
Executive Producer

Dustin O'Halloran
Original Music Composer
Brent Thomas
Production Design


Volker Bertelmann
Original Music Composer
Shannon Grover
Art Direction
Joannie Burstein
Executive Producer
James C. France
Executive Producer

Movie 2: Honeyland
This unusual movie is based in Macedonia (part of the former Yugoslavia) where beekeeping is an important part of rural life, both as a food source and a revenue.
This documentary film captures the importance and difficulty of everyday life in a remote corner of the world and has received numerous awards for cinematography and originality. It is well worth seeking out. Macedonian with English subtitles.
Rating
Summary
Honeyland (March 28, 2019)
When nomadic beekeepers break Honeyland's basic rule (take half of the honey, but leave half to the bees), the last female beehunter in Europe must save the bees and restore natural balance.
Hatidzhe Muratova
Role: Herself
Nazife Muratova
Role: Herself
Hussein Sam
Role: Himself
Ljutvie Sam
Role: Herself
Ljubomir Stefanov
Director
Movie 3: Tel Aviv on Fire
The story line highlights the absurdity of the Israel/Palestine reality in Jerusalem and beyond. In this film the production crew for a popular Palestinian soap opera is forced to alter the script to avoid conflict. It's interesting at first but ultimately dissolves into political satire. Hebrew and Arabic with English subtitles.
Rating   
Summary
Tel Aviv on Fire (August 23, 2018)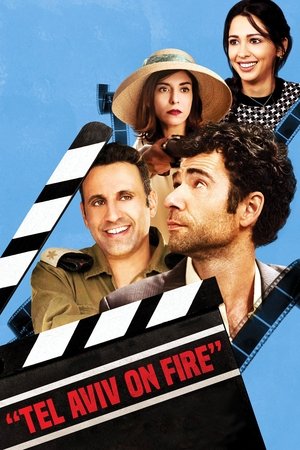 Salam, an inexperienced young Palestinian man, becomes a writer on a popular soap opera after a chance meeting with an Israeli soldier. His creative career is on the rise - until the soldier and the show's financial backers disagree about how the show should end, and Salam is caught in the middle.



Maisa Abd Elhadi
Role: Mariam
Nadim Sawalha
Role: Bassam

Yousef 'Joe' Sweid
Role: Yehuda


Laëtitia Eïdo
Role: Maisa
Ashraf Farah
Role: Marwan
Catherine Schwartz
Editor
Laurent Brunet
Cinematography