Movie 1: Angel Has Fallen
First, some background on this movie, the franchise and a few changes. Aaron Eckhart was cast as the President in the first two episodes in the series. This third in the series has Morgan Freeman as the President.
Apparently, the script was toned down from "rabid jingoism" replaced by better non-stop action. Our audience applauded the screen when the film ended. That's increasingly rare in our experience.
We saw the film in a Dolby cinema. It's worth a couple of extra dollars for the upgraded seats, sound and visuals if you are so inclined.
Rating
Summary
Angel Has Fallen (August 21, 2019)
Secret Service Agent Mike Banning is framed for the attempted assassination of the President and must evade his own agency and the FBI as he tries to uncover the real threat.
Gerard Butler
Role: Mike Banning
Morgan Freeman
Role: Allan Trumbull
Jada Pinkett Smith
Role: FBI Agent Thompson
Lance Reddick
Role: Gentry

Tim Blake Nelson
Role: Vice President Kirby
Piper Perabo
Role: Leah Banning
Nick Nolte
Role: Clay Banning
Danny Huston
Role: Wade Jennings

Mark Arnold
Role: CIA Director James Haskell
Chris Browning
Role: Militia Man
Frederick Schmidt
Role: Travis Cole
Stuart McQuarrie
Role: Doctor Siebertz

Robert Mark Kamen
Screenplay

Ric Roman Waugh
Screenplay
Creighton Rothenberger
Story
David Bernardi
Executive Producer
Christa Campbell
Executive Producer
Boaz Davidson
Executive Producer

Andrey Georgiev
Executive Producer
Jeffrey Greenstein
Executive Producer
Lati Grobman
Executive Producer
Avi Lerner
Executive Producer
Heidi Jo Markel
Executive Producer
Christine Otal
Executive Producer
Trevor Short
Executive Producer
Emilio Torres
Executive Producer
Jonathan Yunger
Executive Producer
David Buckley
Original Music Composer
Jules O'Loughlin
Director of Photography
Daniel Hubbard
Casting Director
Russell De Rozario
Production Design
Kimberley McBeath
Set Decoration
Stephanie Collie
Costume Design
Movie 2: Piranhas
Having traveled to Naples just last year we were not surprised with the story line. Much of Naples was and is still subject to Mafia control that spans centuries.
This film delivers a somewhat mild, albeit gritty, look at the modern conditions where young men and women yearn for status, power and its trappings in turn for drug dealing while sacrificing their innocence and families. Italian and Neapolitan with English subtitles.
Rating
Summary
Piranhas (February 14, 2019)
Six boys race on their scooters through the narrow streets of their Sanità neighbourhood in Naples. They are fearless daredevils, desperate to make money like their role models, and wear designer clothes and the latest sneakers. These 15-year-olds use the city's rooftops for assault rifle practice. They deal drugs and do not hesitate to use their weapons to take control of the neighbourhood. Their smart leader, Nicola, knows the rules: in order to get his gang into the game and quickly to the top, he challenges one of the old bosses. But whoever is in charge today may well be dead tomorrow. When his girlfriend causes Nicola to be caught between all fronts, he is forced to make a decision.

Francesco Di Napoli
Role: Nicola
Artem Tkachuk
Role: Tyson

Viviana Aprea
Role: Letizia
Pasquale Marotta
Role: Agostino
Ciro Pellechia
Role: Lollipop
Claudio Giovannesi
Director
Claudio Giovannesi
Writer
Daniele Frabetti
Production Design
Michele Modafferi
Set Decoration
Massimo Allinoro
Hair Department Head
Valentina Iannuccilli
Makeup Department Head
Lucia Patullo
Makeup Artist
Michela Rossi
Production Manager
Daniela Baldasarre
Second Assistant Director
Luca De Stefano
Property Master
Federico Amodio
Sound Effects Editor
David Quadroli
Sound Effects Editor

Alessandro Borgese
Stunt Coordinator
Emiliano Fiore
Camera Operator
Dario Indelicato
Digital Imaging Technician
Lavinia Bonsignore
Assistant Costume Designer
Alessia Cinti
Production Coordinator
Luca De Giorgi
Production Secretary
Daniele Ciprì
Cinematography
Movie 3: 47 Meters Down: Uncaged
By now you can tell the number of newly released films has dwindled to single digits. This entire film is collectively absurd, claustrophobic and dark.
We were surprised to see this was a sequel. Apparently the first film was successful. The characters are generally bland. The giant sharks are unrealistic. The total package was a disappointment. It was no surprise this morning to see the film is no longer showing…apparently anywhere!
Rating   
Summary
47 Meters Down: Uncaged (August 15, 2019)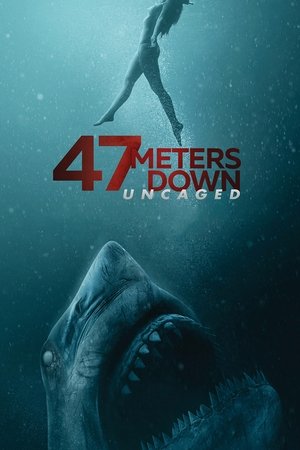 A group of backpackers diving in a ruined underwater city discover that they have stumbled into the territory of the ocean's deadliest shark species.
Cast
47 Meters Down: Uncaged

Sistine Rose Stallone
Role: Nicole


Brec Bassinger
Role: Catherine
Crew
47 Meters Down: Uncaged

Johannes Roberts
Director

Johannes Roberts
Screenplay
tomandandy
Original Music Composer
Mark Silk
Director of Photography
Thomas Bryan
Art Direction
María Fernanda Sabogal
Art Direction
Pamela Aguilo
Set Decoration
Claire Finlay
Costume Design
Colin Jones
Casting Director