Hi all!
Just got back from a 5 night, 4 day getaway to Panama City, Panama for my birthday.  Thank you John!
Panama had been on the bucket list for a while.  The thinking was sooner or later we'd get there on a cruise through the canal but for no particular reason that never materialized.
First impression
It's a big sprawling city of over 1 million inhabitants.  The preferred housing seems to be high rise apartments or condos preferably on or near the coast.  Other areas mix residential with commercial towers in the city center.  That said, there are also extensive low income and impoverished neighborhoods tucked into the cities nooks and crannies.
A big surprise was NO BUGS.  No flies, no mosquitoes!  Who knew, especially in a hot humid climate.  Another surprise was the US Dollar is the national currency.  Even better, prices are 20% to 30% lower than much of the US.
Logistics
Getting around is relatively easy.  Taxis, and Uber, are plentiful and most trips are between $5 and $10.  The taxi from the airport to the city center is a flat rate of $30.  But the trip back to the airport was $39.  We noticed tolls and assumed that caused the variance.  (That said, we were told there was an exit tax of $20 per person but upon check in and immigration no such tax was collected.)
There is a short subway system with one line.  It is clean, modern, fast and popular.  It will take you from the City Center (two blocks from our hotel) to the Albrook Mall and the Regional Bus terminal.  You must purchase a card for $2 and then add money to the card (same machine, English or Spanish).  Each ride is $.35 and can be used by more than one person.
Hotel
We chose the Marriott Hotel in the city center for its location in the center of town.  The city center is also the Banking district.  What we didn't know was after banking hours and on weekends, the area is pretty devoid of a street scene.
We arrived about 9:30 PM to discover the room we booked was not available.  Good news, we were upgraded to a large Executive room with lounge access for breakfast, snacks and beverages.  The hotel had been recently remodeled and offered a great restaurant at reasonable prices, an even better bar, and the usually trappings of an international hotel franchise.
Marriott Panama, Calle 52 y Ricardo Arias, Area Bancaria, Apdo. Postal 832-0498 W.T.C. Panama, Republica de Panama, Tel. (507) 210-9100.  E-mail Concierge: mhrs.ptypa.concierge@marriotthotels.com
Across the street from the hotel is a wonderful Lebanese restaurant and bar, Restaurante Beirut.  There is a huge covered outdoor patio that is popular for people watching.  The food is authentic and excellent. It is a bit expensive but worth the splurge.  restaurante_beirut@Hotmail.com.
Things to see and places to go! 
We decided the best way to get the lay of the land was the Hop On-Hop Off City and Canal Tour bus.  One day 24 hours, $29 Adults (our tickets were good for 30 hours which meant 3 PM the next day!), 48 hours for $39, or 72 hours for $50.  Buses ran every 45 minutes to every hour depending on the day.  The lower level is fully air conditioned.  The upper level is covered and generally preferred.  Headsets in multiple languages are at every seat.
There are only 6 stops but some how manage to cover most of the City Center, the waterfront, the Albrook Mall, the Miraflores locks of the Panama Canal, the Biodiversity Museum, the Causeway islands, and the old town.  info@citytourspanama.com. Details below.
Multicentro Shopping Center
A large part of the local culture centers on the many Shopping Centers in Panama City.  Hotels, and residential towers tend to use these shopping centers for shopping, dining and entertainment.  The Multicentro is a large indoor/outdoor multi level facility with a little bit of everything.  Local, regional and international brands can be found here.
Canal de Panama (Miraflores Locks)
This is a MUST DO attraction.  There is a $15 admission charge to the Miraflores visitor center.  This allows access to the museum, viewing terraces, gift shop, restaurant and bar.  Plan at least an hour or two.
Biomuseo
This museum was designed by Frank Gehry and is surrounded by parklands and the South entrance to the Canal and overlooks the Puente De Las Americas (the Bridge of the Americas).
It is a world class facility with stunning views of the bay, the canal, the old quarter, and the modern city. It also covers 40 million years of history as the land bridge created the link between North and South America.
It is a semi guided journey starting with the gallery of local Biodiversity, what is extinct, endangered and thriving.  There is also a stunning 10 screen visual presentation of Panama's natural wonder in the air, on the land and in the sea.
There is a great display of fossils dating back millions of years and a gallery of the ancient ancestors of todays animals and mankind.
There is  a great little café, a nice gift shop, and space for new and temporary exhibits.  Plan at least 1 or two hours.  Admission is $16.  www.biomuseopanama.org
Casco Antiguo Old Quarters
This is the old town of Panama City where you can easily spend a half day or evening.  The area is slowly being restored to its old glory with many more buildings waiting for their turn.
It is a peninsula surrounded by water on three sides.  It is loaded with places to dine, shop or explore.  Sadly, the most important Catedral Metropolitana was closed under massive reconstruction during our visit.  The picturesque Plaza Catedral and the adjacent Museo del Canal Interoceanico stand next door.
Don't miss the Inglesia de San Jose o Altar de Oro with its gold alter.  Another must is the Plaza de Francia and the oblisk.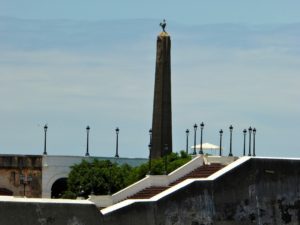 Also worth a look is the Iglesia Nuestra Senora de la Merced dating back to 1680 with its Virgen de la Merced brought from Spain in 1722.
The Mercado del Marisco is just down the main road where the best fresh ceviche and seafood cocktails are popular in the restaurant upstairs.
A local stop for lunch, beer, wine try Super G Casco Viejo, Ave A y Calla Cta for gourmet deli sandwiches, home made soups and salads at reasonable prices.  www.supergourmetcascoviejo.com.
Albrook Mall
The subway will get you to the Albrook Mall and the Regional Bus Terminal.  The Mall has over 650 stores.  It is considered the largest Mall in the country.  Filled with large stores and small shops of every variety and description.  The two level complex stretches on seemingly forever.  There are several huge food courts that attract mammoth crowds from midday into the evening.  We found a multiplex movie theater where one movie was showing in "version originale" (English).  Stadium seating, we could have been in Santa Monica!
SOHO Mall
Located a 5 minute walk from our hotel, this upscale mall is part of a three tower commercial, Ritz Carlton Hotel and a residential tower.  The shopping complex hosts all high end designer stores:  Chanel, Dior, Prada, Ferragamo, Michael Kors, Ralph Lauren and such.
There is an upmarket cinema, seven theaters, all premium stadium seating with butler service, full menu and bar service delivered to your electric reclining seat.  Cinepolis SOHO, Calle 50 EDIF, SOHO Mall, Piso 2.  Admission $8.50.
There is a collection of nice restaurants as well.  We tried Ciao Bella Gourmet.  It was superb.  White wine, Caprese salad, house made fresh pastas, chocolate pistachio desert, and cappuccinos.  Great view of the skyline.  The place was packed.
**********************************************************
"A journey of a thousand miles must begin with a single step"
Lao Tzu, ancient Chinese philosopher and writer