Movie 1: This is Not Berlin
This youth inspired reflection on Mexico City in the mid-80's is filled with all the angst and torment most generations experience at some point in their lives.
This film just happens to benefit from a great cast, the expert mix of revolt, underground nightlife, drugs and sexual liberty. Spanish with English subtitles.
Rating
Summary
This Is Not Berlin (June 21, 2019)
Seventeen-year-old Carlos doesn't fit in anywhere, not in his family nor with the friends he has chosen in school. But everything changes when he is invited to a mythical nightclub where he discovers the underground LGBTQ nightlife scene: punk, sexual liberty and drugs.

Mauro Sánchez Navarro
Role: Nico
José Antonio Toledano
Role: Gera
Xabiani Ponce de León
Role: Carlos
Fernando Álvarez Rebeil
Role: Quiñones

Lumi Cavazos
Role: Susana

Marina de Tavira
Role: Carolina

Américo Hollander
Role: Tito
Klaudia García
Role: Maud



Verónica Valadez
Producer
Antonio Urdapilleta
Producer

Movie 2: David Crosby: Remember My Name
Wow! What an unexpected revealing look at singer-songwriter David Crosby, a music icon, now in his 70's. This documentary is jammed with fear, regret, drugs, sex, heartbreak and soul searching.
It's also a powerful reminder of incredible talent, perseverance and forgiveness. What a roller coaster ride through music history during our lifetime.
Rating
Summary
David Crosby: Remember My Name (July 19, 2019)
You thought you knew him. Meet David Crosby now in this portrait of a man with everything but an easy retirement on his mind. With unflinching honesty, self-examination, regret, fear, exuberance and an unshakable belief in family and the transformative nature of music, Crosby shares his often challenging journey.
Cast
David Crosby: Remember My Name
David Crosby
Role: Himself
Graham Nash
Role: Himself (archive footage)

Stephen Stills
Role: Himself (archive footage)
Neil Young
Role: Himself (archive footage)
Cameron Crowe
Role: Himself - Interviewer
Crew
David Crosby: Remember My Name
Michele Farinola
Producer
Movie 3: Official Secrets
This film is based on true events from the Bush and Blair administrations. The US and the British Intelligence ensnare UN Security Council members with blackmail to approve the invasion of Iraq.
It's masterful film making and a reminder of a dark chapter in global events. Keira Knightley is superb.
 Rating   
Summary
Official Secrets (August 30, 2019)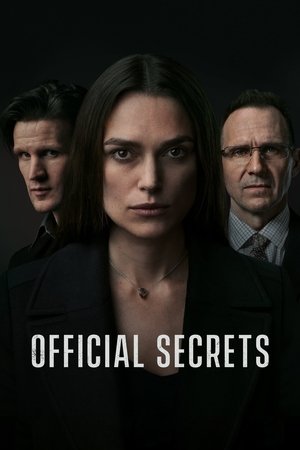 The true story of British intelligence whistleblower Katharine Gun who—prior to the 2003 Iraq invasion—leaked a top-secret NSA memo exposing a joint US-UK illegal spying operation against members of the UN Security Council. The memo proposed blackmailing member states into voting for war.

Keira Knightley
Role: Katharine Gun
Matthew Goode
Role: Peter Beaumont
Matt Smith
Role: Martin Bright
Ralph Fiennes
Role: Ben Emmerson
Indira Varma
Role: Shami Chakrabarti
Rhys Ifans
Role: Ed Vulliamy
MyAnna Buring
Role: Jasmine
Tamsin Greig
Role: Elizabeth Wilmshurst
Conleth Hill
Role: Roger Alton
Hattie Morahan
Role: Yvonne Ridley
Ray Panthaki
Role: Kamal Ahmed

Kenneth Cranham
Role: Judge Hyam
Chris Larkin
Role: Nigel Jones

John Heffernan
Role: James Welch
Monica Dolan
Role: Fiona Bygate
Jeremy Northam
Role: Ken MacDonald
Katherine Kelly
Role: Jacqueline Jones
Jack Farthing
Role: Andy Dumfries
Hanako Footman
Role: Nicole Mowbray
Clive Francis
Role: Rear Admiral Nick Wilkinson
Peter Guinness
Role: TinTin
Angus Wright
Role: Mark Ellison
Adam Bakri
Role: Yasar Gun

Tony Blair
Role: Himself (archival footage)
George W. Bush
Role: Himself (archival footage)

Andrew Marr
Role: Himself (archival footage)
Katharine Gun
Role: Herself (archival footage)
Florian Hoffmeister
Director of Photography
Paul Hepker
Original Music Composer
Mark Kilian
Original Music Composer
Gregory Bernstein
Screenplay
Elizabeth Fowler
Producer
Claire Finlay
Costume Design
Simon Rogers
Production Design
Sara Bernstein
Screenplay
Melissa Shiyu Zuo
Producer